about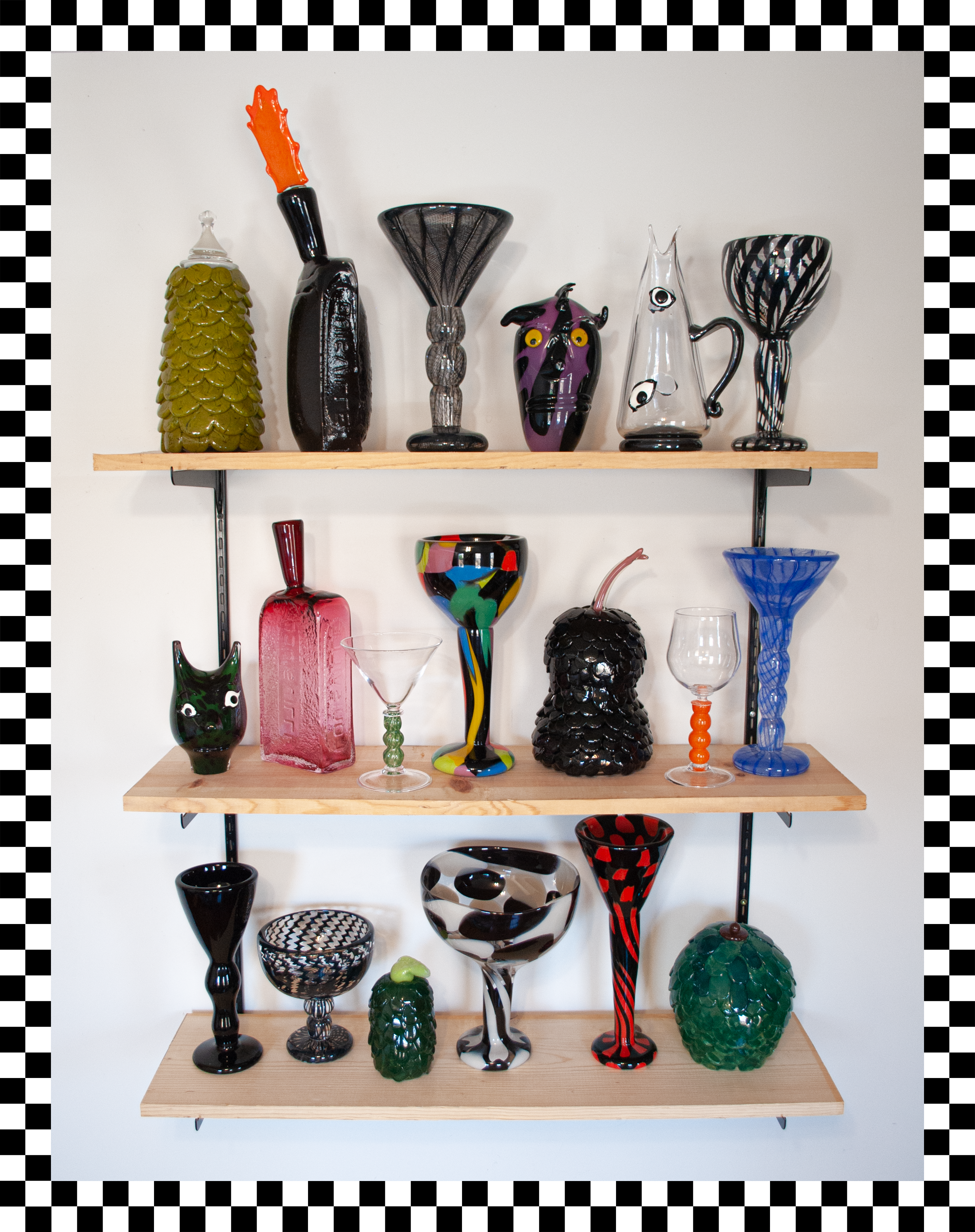 Biography

Born in Louisville, Kentucky, Mitchell Noah is an artist and educator currently based in Baltimore, Maryland.

Mitchell's practice incorporates glass, objects, sculpture, image making and video. He received an InterMedia + Digital Art MFA from UMBC, and an MFA in Glassworking from BGSU in Ohio. His work has been shown in group exhibitions both nationally and internationally, particularly through artist-run and independent arts spaces. He has taught glassmaking at Bowling Green State University (OH) from 2013-2015, the University of Louisville's Hite Art Institute (KY) in 2020, and currently at Corradetti Glassblowing Studio (Baltimore, MD) since 2016.

In 2019, Mitchell and his partner Chinen Aimi founded Spatial Oddity Studio as a way to share one-of-a-kind and small batch objects and wares for everyday-use and display. Their glass and ceramic works are represented by the Made in Baltimore program, and were recently featured in American Craft Council's 2021 Baltimore Craft Week Marketplace.

Artist Statement

My work in furnace glass exists between function and sculpture, mixing traditional and experimental hot processes to create objects with a pop sensibility. While practicing my glassmaking craft through a range of vessel forms, new ideas emerge for objects to exist as sculpture. I aim to keep this work playful and improvisational, achieving boxy refinement with harsh technique. Glass is a material that can shift into many shapes and appearances, and my work is a continuous pursuit of the medium's expressive potential.

The approach I take to glassmaking is influenced by mediums outside of glass such as rock, noise, and jazz music. The sheer impact of amplification of rock music mixed with the improvisatory interchange of ideas in jazz music have guided not only the aesthetic of my work, but also the philosophy in which I make the work in the studio. I consider furnace glassmaking to be similar to musical performance, where going into the studio with one idea or direction can lead to something completely new and different being made based on who one is working or collaborating with, the orientation of the equipment, and the atmosphere one is working in.

Other mediums I look to for inspiration include contemporary ceramics, and particularly early to mid-20th century Italian glass for any resonating iconographies, forms, or textures to reinterpret. One of the things I follow from this period of design house glass objects are how the restrictions of scale directed the work. I also find visual inspiration from everyday encounters with images and objects.

Recently, I have been focused on making "cover songs" and "love songs" as glass objects by giving a three-dimensional form to persons, writings, and other artworks. Billy Clubber (2020) is a "cover song" of a painting by the contemporary artist Peter Williams and the writings of anthropologist David Graeber.

Milk Lizard (2021) is a figurative baby's bottle. It is from the Kaiju Jars series which have multiple individual bits of glass that form a layered scale texture and was inspired by recently becoming a father. These are a series of "love songs" as objects that look to capture the sensibilities of nurturing a young and monstrous human being. These sculptural vessel forms represent a fusion of separation, interdependence, and lizards from outer space.

Shit-kicker (2020) is a "love song" which contrasts beauty with action, using the traditional zanfirico cane pattern to realize a sock-like appearance. The glass is shaped as a lower leg and given full form with the use of an appropriated work boot. Each of my works have other everyday influences or styles I try to emulate into the medium of glass, and after layering these inspirations the result is a unique sculptural object.

Tooth-chippers are an ongoing series of work where vessels border the functional and sculptural line. Goblets are oftentimes impractical to hold or use with over-ornamentation and thinness, though they are practiced by glassmakers today to achieve a high level of dexterity with the material. I wanted to make a series of goblets as "cover songs" that abandoned the traditional criteria and assembly processes by making them overly thick and heavy and out of one large mass of material instead of in parts--a backwards approach, so to speak, of sculpting the goblet form while retaining a level of impracticality.

As an object maker, I am less concerned with the designed or conceptual functionality of an object as I am interested in exploring crudity, form, and aesthetic sensibilities. Through a minimalistic approach, I often do not utilize torches outside of the gloryhole heat in the studio to push myself to work faster and hotter, in a similar vein as punk or hardcore music being played faster and louder when performed live (see the record Spy vs. Spy: John Zorn Plays the Music of Ornette Coleman). I want to approach making glass like the guitar player who starts writing a song with out of tune strings or the drummer who changes the position of the snare for every performance; embracing mistakes and challenging myself in new ways when I can, because that to me is keeping within in the spirit of the American Studio Glass movement.

Questions I ask myself about the process include: how can I compose an object using traditional techniques of glassmaking, such as hot sculpting, cane patterning and bit-working, into an improvised vessel or form? How can I approach the traditions of this craft in incomprehensible or unexpected ways? What can I do to challenge myself every time I pick up a blow pipe? What if I use the bent blow pipe? Is furnace glass ever perfectly centered? Does a glass object, be it a vessel or sculpture (or both), being off-center or "wonky" show the mark of the hand more than something that is hyper-polished and super straight?

Glass is a balance of technical refinement and experimentation. By bringing influences in from mediums outside of glass, I approach new forms while preserving the heightened aesthetics exclusive to this material. Most importantly, however, is my ultimate goal to always have fun in the studio when making new things and to discover weird and imaginative ways of blowing glass.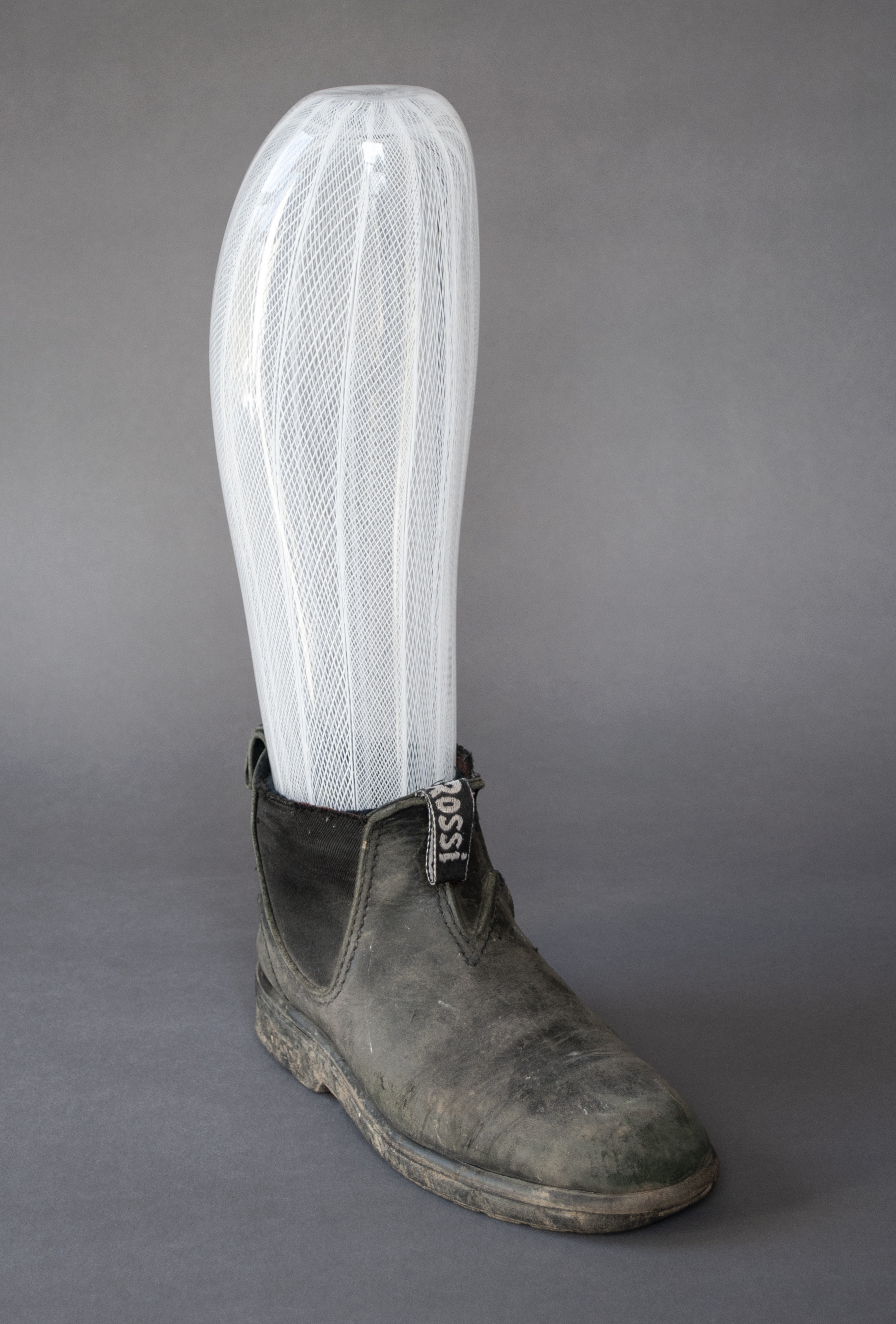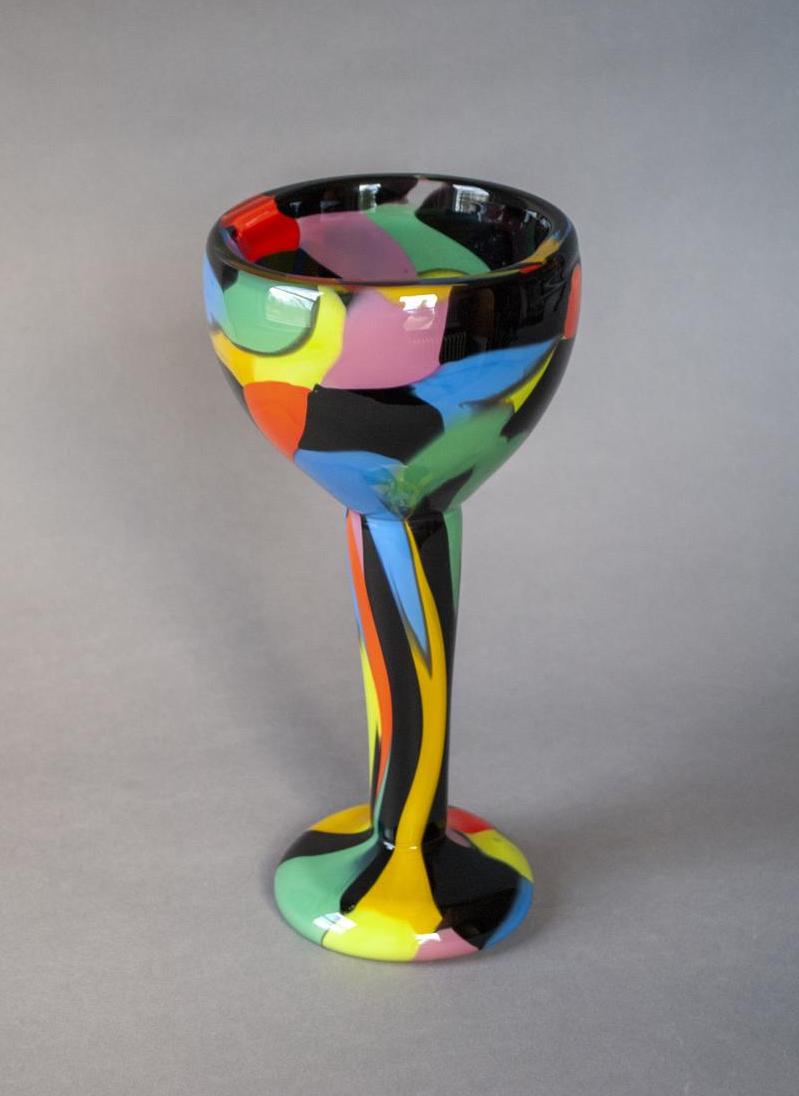 ︎
︎